The Missouri Republican senator Josh Hawley has claimed he "never" intended to help Donald Trump overturn the presidential election, and called allegations that he helped incite the deadly riot at the US Capitol on 6 January a "lie".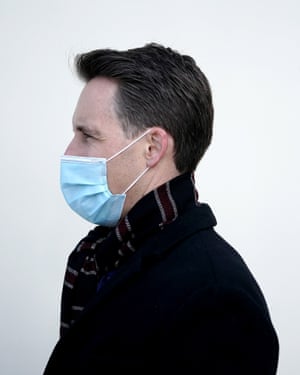 Hawley was speaking to NewsRadio 1120 KMOX in St Louis.
His claim not to have been seeking to overturn the election contradict his words in an interview with Fox News on 4 January, two days before the Capitol attack.
Then, Hawley was asked if he was "trying to say that as of 20 January [inauguration day] that President Trump will be president?"
"Well," he said, "that depends on what happens on Wednesday. I mean, this is why we have to debate."
In that interview, Hawley was defending his decision to become the first Republican senator to say he would object to electoral college results, while Trump continued to baselessly claim that Joe Biden had stolen the presidential election via massive electoral fraud – claims that were repeatedly thrown out of court.
The Democratic candidate won more than 7m more votes nationally and took the electoral college by 306-232, a result Trump called a landslide when it was in his favour over Hillary Clinton in 2016.
Other Republicans followed Hawley in saying they would object when Congress gathered to certify results on 6 January. That day, Trump addressed a rally outside the White House, repeating his baseless claims of fraud and telling supporters to march on the Capitol and "fight like hell" in his cause.
Hawley was photographed raising his fist to Trump supporters outside Congress. A mob broke in, ransacking offices, fighting with law enforcement and in some instances allegedly looking for lawmakers to kidnap and kill. Five people died, one a police officer hit with a fire extinguisher.
When Congress gathered again that night, the Capitol become a crime scene, Hawley, Senator Ted Cruz of Texas and 145 other Republicans went through with their promised formal objections to electoral college results.
Hawley objected to the result in Pennsylvania. Had that state flipped, it would not have been enough to keep Trump in the White House. No results were overturned. Two weeks later, Biden was sworn in as the 46th president.
Trump was impeached a second time, for inciting an insurrection against the US government. On Tuesday, Hawley was one of 45 Republican senators who voted against even holding a trial.
Amid fallout from the Capitol attack, Hawley has been rebuked by mentors and lost donors and (briefly) a book deal. He faces calls for censure or expulsion from the Senate, and has been moved to deny widespread speculation he will run for the Republican presidential nomination in 2024.
On Wednesday, KMOX host Mark Reardon told him: "Senator, you more than anyone else, and this is what just personally disappoints me, you knew that there was no constitutional path for that election to be overturned once the electors are certified [by the states] and there was a fair amount of people including me that feel that you led people to believe that that option still existed."
Reardon said he understood Hawley's claim to have been concerned about "election integrity and … potential concerns of fraud", but said: "That didn't seem to be what the tone was between certainly when the electors were certified and 6 January."
"I never said that the goal was to overturn the election," Hawley insisted. "That was never the point and that was never possible."
Later, Reardon said: "You're just gonna have to answer the question. There seems to be a disagreement. So there are some people that feel like you lead them down the path that would lead some Trump supporters to … interpret some of the things you were doing as the feeling that he was still going to be sworn into office."
Hawley answered: "That's just a lie. That is a lie told by the leftwing mob that now wants to silence me and Ted Cruz and 140 House members and 13 senators and anybody who would dare stand up to them. Anyone who is a Trump supporter who refuses to bow the knee. And I'm just not gonna be silenced. It is a lie that I was trying to overturn an election … It is a lie that I incited violence."
Hawley's claim that the left is trying to intimidate and silence him was familiar: he made it after protesters police called "peaceful" held a vigil outside his Washington-area home, and repeated it last Sunday in a front page column for the New York Post, a mass-market tabloid owned by Rupert Murdoch.
Such claims, similar to many made by rightwingers claiming to have been silenced by mainstream and social media, met with widespread ridicule.