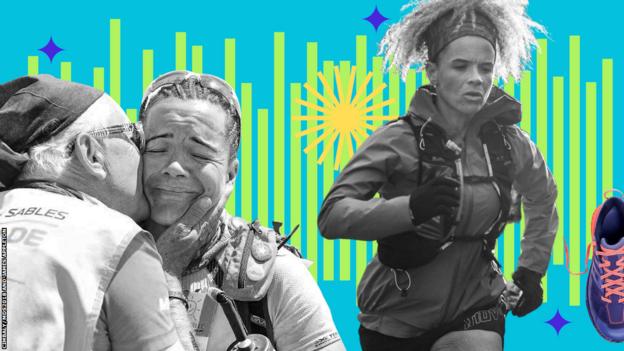 Warning: This article contains an account of suicidal thoughts and experiences of racism.
"Why don't you try jogging?"
Sabrina Pace-Humphreys wasn't sure about those five words when she first heard them. Now, she says they saved her life.
In 2009, Pace-Humphreys suffered extreme post-natal depression after the birth of her fourth child.
"I went to really dark places but I didn't know just how bad it was," she tells Women's Sport Matters – a Sports Desk podcast special produced with the Open University.
"I had thoughts about my own life, why I was here, why I shouldn't be here."
Thankfully, at a three-month post-natal appointment, Pace-Humphreys' GP recognised something was wrong.
"One of the things she said to me was to do something for myself that takes me out of the house," Pace-Humphreys, 45, explains.
"I had no idea. Things were so dark for me. She said: 'Why don't you try jogging?'"
Pace-Humphreys' immediate reaction, having never run before, was to think jogging "wasn't for me" – but she was "so desperate to not have these thoughts that I would do anything".
So she went out for a run, or a "shuffle" as she now describes it.
"I'll always remember that first time – I think I did a mile," she recalls.
"It was a one-minute jog, one-minute walk. I got home and fell on the floor of the kitchen. My husband was like: 'Are you OK?'
"Although everything hurt in my body and I didn't feel physically OK, for that whole time I hadn't had a thought about taking my own life.
"All I could think of was, 'breathe Sabrina… keep taking a sip of water.. it's only 400m until you're back'.
"Being present in the moment, in the run, stopped me from being totally consumed by those other thoughts.
"That's what made me go out again five days later when I felt I could walk again. In my running journey, that is what keeps me going back still to this day.
"I know that without that advice in 2009, I wouldn't be here today."
Rural racism
Pace-Humphreys kept putting one foot in front of the other and now, incredibly, runs ultra-marathons, including completing the 250km Marathon des Sables across the Sahara Desert in 2018.
She describes running as her "medication", having experienced anxiety since childhood.
In her 2022 book Black Sheep: A Story of Rural Racism, Identity and Hope, Pace-Humphreys describes the racism she experienced growing up in a market town after moving there aged four.
"I talk about the earliest experience I have of being racially abused, of being othered because I look different, because my hair was different, because I was dark-skinned. I wore National Health glasses," she says.
"All these things impacted on my mental health from a very young age. I would experience episodes of high anxiety as a child but I didn't know what to call it.
"It was just the fear – I couldn't enjoy the really good times because I was so fearful of what was around the corner."
Pace-Humphreys says that "got worse through my life", leading to further episodes of anxiety and depression, and eventually alcohol addiction.
For Pace-Humphreys, running is "what I need to take every day for my mental health".
Black Trail Runners
Pace-Humphreys now works to share the release of running with others after co-founding Black Trail Runners – a charity that seeks to increase inclusion, participation and representation of black people in trail running.
She says the idea for the organisation came from a "life-or-death experience" while running in the Alps.
Pace-Humphreys slipped during an ultra-marathon and found herself clinging on to the edge of a precipice.
She explains: "I fell off a snow field and was screaming for dear life. Five white men ran past me as if I wasn't there."
Eventually, a man pulled her back onto the path and Pace-Humphreys says the experience "really made me think about my place in trail running".
Through her work with Black Trail Runners, she looks to tackle barriers to access and the "massive lack of diversity" in the sport.
"You see a community come together in the trails and you don't even have to say a word. You look at each other and you just know you are being held, you are safe and they get it," Pace-Humphreys says.
"People say to us they have finally found a place they feel seen, safe. That is everything."
Fourteen years on and a world away from when she was first confronted with the idea of having to run, Pace-Humphreys now coaches Couch to 5K groups as she tries to convince others of the pleasures of running.
She will also be at April's London Marathon with a group from Black Trail Runners.
For those who think such a feat would never be possible for them, Pace-Humphreys has this advice: "Just do one small thing. Even if it's to just stand in your trainers.
"I've seen it in my own journey. Never underestimate your power to change things."
If you, or someone you know, have been affected by any issues raised in this article, support and information is available at BBC Action Line.
Sports Desk: Women's Sport Matters is a special mini-series produced in partnership with the Open University. The four episodes cover periods; sportswear; the psychology of injuries and exercise habits. You can listen to them here.