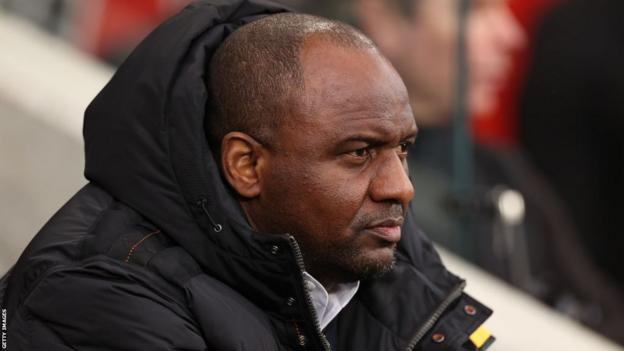 The number of black former players hired in managerial or executive roles has seen "no real change", the Black Footballers Partnership has said.
The BFP's annual review into the professional game in England and Wales also said the career ladder for black former players is "missing rungs".
The Football Association's Football Leadership Diversity Code was criticised for "taking comfort in vague and misleading data" – an accusation the FA, which has not yet seen the report, "strongly rejects".
The BFP, an organisation of present and former black players, said the number of management-related positions held by black employees rose by eight compared with the previous year, from 49 among 1,338 individuals (3.7%) to 57 individuals out of 1,304 in 2023 (4.4%).
It also said the number of new black personnel hired went from 21 out of 325 new positions (6.5%) to 26 out of 379 (6.9%), while the worst hiring rates were at the bottom of the football pyramid – making career progression difficult.
Three out of 68 new roles in League Two went to black employees, it said, compared with 11 out of 165 new roles at Championship level.
BFP executive director Delroy Corinaldi said the latest report showed the professional game in England and Wales was "in danger of being a one-in one-out employer of black talent".
The BFP called for a "meaningful partnership" with black former and current players to affect change.
In response, the FA, which launched the Diversity Code in 2020 to tackle racial inequality in the English game, said: "We are deeply committed to ensuring that English football is truly reflective of our modern and diverse society. This is fundamental to our core beliefs, and we are focused on delivering diverse and meaningful change in football."
The FA said it has seen some signs of progress this year with three governing bodies exceeding seven out of eight targets.
But while clubs exceeded diversity targets for senior coaches in the men's game and coaches in the women's game, "there is still a huge amount of work to be done", the FA accepted.
A previous BFP report showed that although 43% of Premier League and 34% of English Football League players were black, only 4.4% of managers were black.
That led QPR director of football Les Ferdinand to speak out, criticising the FA's Football Leadership Diversity Code for making "no difference whatsoever" in helping black players get jobs in the game.
Crystal Palace manager Patrick Vieira said last month that he is "troubled" by the lack of black managers in the Premier League and Women's Super League.
Former Premier League manager Chris Hughton said "the people running the game are sincere about change" but believes the lack of black representation away from the pitch "continues to be an ingrained problem".
According to the FA's voluntary code, which has more than 60 signatories including all 20 Premier League teams, clubs are required to meet a recruitment diversity target of 15% in new executive jobs and 25% in coaching roles.
However, the BFP said there was a "lack of concrete, evidenced progress" despite the FA's claims.
The BFP added: "The FA's Football Leadership Diversity Code appears to give comfort through limited, self-selected data reporting.
"The results are partial, vague and provide only a partial, and unusually rosy, picture of the state of play. Our more detailed data shows a different picture."
In response, the FA said: "The code now has over 60 signatories, including all Premier League clubs, 29 EFL clubs, the FA, Premier League and EFL, who are all committed to diverse recruitment and the annual publication of their results – and we strongly reject any suggestion that the published data is either vague or misleading."
The FA said its code was designed to "examine the rate of change in the industry".
It added: "This means the data it collects and publishes is based on hiring rates; it is not a partial collection or limited reporting, it reports on what the code was designed to measure."