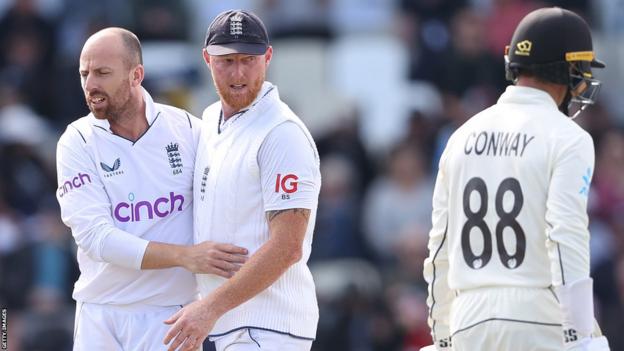 England took the "aggressive" option by enforcing the follow-on despite New Zealand's fightback in the second Test, says Paul Collingwood.
The Black Caps reached 202-3 in their second innings at the close of day three in Wellington, 24 behind England.
"We're ahead of the game," assistant coach Collingwood told BBC Sport.
"We felt as though we could cause a lot of problems, which we did, but we didn't get the rewards for it. There were a lot of great things from today."
England bowled New Zealand out for 209 on the third morning, taking a first-innings lead of 226.
Given the opportunity to enforce a follow-on for the first time as captain, Ben Stokes took the chance, at the same time making this the first time England had asked the opposition to follow on since 2020.
"It's the aggressive approach and that's how we try to do things," said Collingwood, who played 68 Tests for England.
"It was very clear in Stokesy's mind when we turned up this morning that if we had the chance to enforce the follow-on we would be taking it. We never take a backward step."
Tom Latham made 83 and Devon Conway 61 in a New Zealand opening stand of 149. Though the Black Caps lost three wickets for 18 runs to the spin of Jack Leach and Joe Root, Kane Williamson and Henry Nicholls defended stoutly at end of the day in a partnership that has lasted more than 21 overs but yielded only 35 runs.
Only three times in the history of Test cricket has a team enforced the follow-on and gone on to lose, all Australia, to England in Sydney in 1894, again to England famously at Headingley in 1981 and against India in Kolkata in 2001.
England will have a second new ball that is only three overs old as they look for New Zealand wickets on Monday, with Collingwood confident the tourists can chase whatever total they are set.
"We don't look at targets and we never restrict this team or think about how many is too many," said Collingwood.
"We are in a very good position in this game. The morning sessions seem to be doing a lot more for the seam bowlers, so hopefully we can make serious inroads with the new ball tomorrow and have a total we can chase."
If England do complete victory it would give them a 2-0 series win and a seventh consecutive Test success.
Captain Stokes bowled only two overs on Sunday, not introducing himself to the attack until the 50th over of the New Zealand second innings.
The all-rounder, 31, has a long-standing problem with his left knee.
"We all know he's got a knee niggle," said his former Durham team-mate Collingwood.
"It's something that's always going to be there and something he always tries to manage."