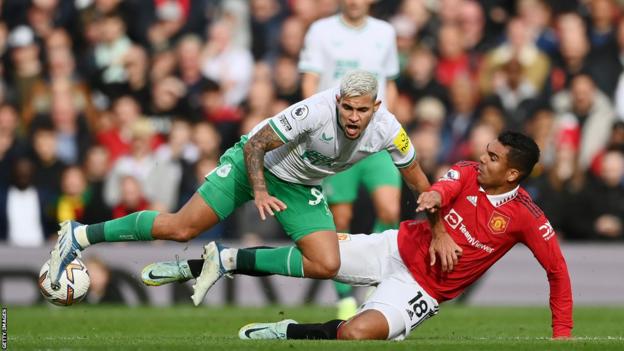 Date:
Sunday, 26 February
Time:
16:30 GMT
Venue:
Wembley Stadium, London
BBC coverage:
Live radio commentary on BBC Radio 5 Live and live text commentary on BBC Sport website
Manchester United and Newcastle will aim to secure the first piece of silverware available this season in Sunday's Carabao Cup final at Wembley.
Erik ten Hag's side thrashed Nottingham Forest 5-0 on aggregate over two legs in the semi-finals, while Eddie Howe's team reached their first domestic final since 1999 with a 3-1 aggregate victory over Southampton.
The Red Devils, who are fighting for success on four fronts with the Premier League, FA Cup and Europa League as well, have not won a trophy since 2016-17, when they claimed the EFL Cup and the Europa League under former boss Jose Mourinho.
Newcastle, who were beaten by Manchester United in the 1999 FA Cup final, will be attempting to win their first major trophy in almost 54 years, with their most recent coming in the Inter-Cities Fairs Cup in 1969.
Silverware would underline Man Utd progress
Manchester United travel to London having lost just once since 6 November and on the back of a nine-game unbeaten run.
That sequence includes Thursday's rousing victory over Spanish giants Barcelona, which saw Ten Hag's team progress into the last 16 of the Europa League, although with French striker Anthony Martial already ruled out the fitness of top scorer Marcus Rashford is a major concern.
The England forward was substituted in the 88th minute against Barca and later posted on Instagram an image of himself walking down the touchline looking in discomfort accompanied by a bandaged emoji.
Having overcome injury issues in previous campaigns, Rashford has been in red-hot form for United this season with 24 goals, a career-best total. No player in Europe's top-five leagues has more goals than him since the World Cup break.
"Football is probably 95% your mentality," Rashford said. "That gives you the baseline to perform. There are a lot of players that have ability – that's why they play at the top level. But what sets them apart is the mentality.
"I've been on both sides of it. I understand the strength of it and the value. I'm concentrating a lot more on keeping myself in that headspace and it's needed in order to win games and trophies."
In total contrast to the negativity and disharmony that surrounded their dismal 2021-22 season, United also remain in the FA Cup and have put themselves into a position to contend if league leaders Arsenal or second-placed Manchester City slip up in the Premier League title race.
A first trophy for the club in almost six years would only likely add to the upbeat feeling that has been restored by the Dutch boss' impressive start to his tenure and possibly provide further impetus in their chase for honours.
"For the position we have been in over the past years and the feeling we have inside the dressing room, it means everything," said United left-back Luke Shaw.
"It has been such a long time since we have won a trophy. People will say it is the Carabao Cup but for us, it is massive. It is something we have been aiming for a long time; to get that winning feeling back, that feeling of winning trophies."
Manager Ten Hag said: "It's a great opportunity to get the silverware in. It's all about that glory and honour in football. We deserve to play the final and we have a great opportunity to win the cup and we have to do everything to get it to Manchester.
"I think we are in a process where everyone believes. We go from game to game and we are looking forward to the next game. We have to follow that line to improve and be the best."
Newcastle aiming to 'create new history'
Newcastle sit fifth in the Premier League, a point behind Tottenham and eight behind Sunday's opponents with a game in hand and boasting the meanest defensive record in the country.
It is a situation far removed from their struggles prior to the Saudi Arabian-backed takeover of the club in October 2021, with the recruitment of Howe and some shrewd transfer dealings delivering an upturn in fortunes.
However, while Bruno Guimaraes returns from suspension, they will be without goalkeeper Nick Pope, who was sent off as their 17-game unbeaten run in the Premier League was ended by Liverpool.
With Martin Dubravka cup-tied and Karl Darlow out on loan, former Liverpool goalkeeper Loris Karius is expected to play ahead of Mark Gillespie as Newcastle aim for a first Wembley win since their FA Cup triumph in 1955.
Another slight concern for Howe will be that his side appear to be coming into the contest during an indifferent run of form.
Their last league win came against Fulham in mid-January and the Magpies have scored nine goals in their past 11 matches.
"I'm pleased the game is here. I think it's been a difficult few weeks for us because the talk has been about it, even though it's been two or three games down the line," Howe said.
"We've beaten some really good teams and been very consistent with our form. We believe the power is in our hands and it's up to us to perform at those best levels.
"I always believe that the history, from my side, is respected but we're trying to create new history with a new team at a new moment. We're determined to try and do that and create some great memories for our amazing supporters.
"They've had a long wait for that moment and I know just from my very limited dealings with people around the city, with people that I see, the love they have for the football club. I'd love to return that love with a trophy."
'Wembley is only a place for winners'
Speaking to BBC Radio Newcastle, former Magpies and England centre forward Alan Shearer said: ""I'm there as a fan on Sunday, that drive up to Wembley way when you can see the Newcastle fans – it's the only time I wish I could put my boots back on.
"Wembley is only a place for winners. It's a blooming horrible place when you don't win. I've been there in finals and semi-finals and it's horrible for the players and for the fans [if you lose].
"I lived the dream, now they're living the dream – they're lucky boys. As soon as you leave the hotel it's a great journey to Wembley and seeing the black and white shirts, the cheering, the scarves, it's just incredible. It sent a shiver down my spine."
Former Newcastle defender Steven Taylor echoed that view, saying: "Newcastle have been a sleeping giant for years. Going to win the cup will change everything – with the city it is huge.
"It is similar to the Bobby Robson days with the feel-good factor Eddie Howe has created. It has put Newcastle back on the map. There is no reason Newcastle can't go into this full of confidence.
Former Crystal Palace and Republic of Ireland forward Clinton Morrison added: "Newcastle are massively on track. The way they have done it has been fantastic. Everyone said Howe was a short-term replacement, he has turned this football club around.
"They defend, know what it is like to play for this football club and they have some talented individuals. I think the game will go to penalties and Karius could well be the hero.
"Manchester United are playing with freedom, they feel they can beat anyone. Marcus Rashford is probably the most in-form forward in Europe at the moment. It is going to be a brilliant final."
Pick your combined Manchester United-Newcastle United XI
Pick your combined Man Utd and Newcastle XI for Sunday's Carabao Cup final