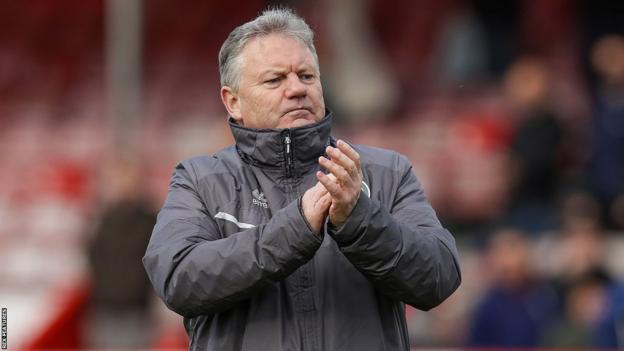 The Football Association will appeal against the decision to ban former Crawley Town manager John Yems for 18 months for making racist comments.
The governing body believes "a longer sanction" is appropriate for Yems.
An independent panel found Yems guilty of racist abuse towards his players following a hearing in November.
A report stated the 63-year-old used "offensive, racist and Islamophobic" language and joked that a Muslim player was a terrorist.
Last week the FA said it "fundamentally disagrees" with the independent panel's view that comments made by Yems were "not a case of conscious racism".
Yems was suspended by Crawley on 23 April last year amid "serious and credible accusations" that he used discriminatory language and behaviour towards his players between 2019 and 2022.
He then parted company with the League Two club 13 days later, two days after the FA announced it was investigating the allegations against him.
Yems admitted one FA charge of making comments that had a reference to either ethnic origin, race, nationality, religion, gender or colour but denied 15 other charges.
The independent regulatory commission found 11 of them to be proven and four unproven during a hearing and banned Yems until 1 June 2024.
A further charge of segregating the players at the club along racial lines was withdrawn by the FA before the hearing.
The tribunal's report stated how, in his defence, Yems "categorically denied that he was in any way racist".
The panel was made up of barrister Robert Englehart KC, former Sheffield United striker Tony Agana and Wolverhampton Wanderers club secretary Matt Wild.
The Professional Footballers' Association (PFA) said the FA's decision to appeal against the length of the ban was "absolutely right".
"[The disciplinary commission's] full written reasons essentially excuse behaviour and language which has resulted in 11 charges of discriminatory behaviour being upheld and a ban being given," said PFA senior equalities education executive Jason Lee, who made more than 650 appearances in a 23-year career.
"They have offered a justification that is wholly unnecessary and, in our view, completely without merit.
"They have caused anger and upset to many. Every individual is responsible for the impact of their words and their behaviour. There should be no excuses made."