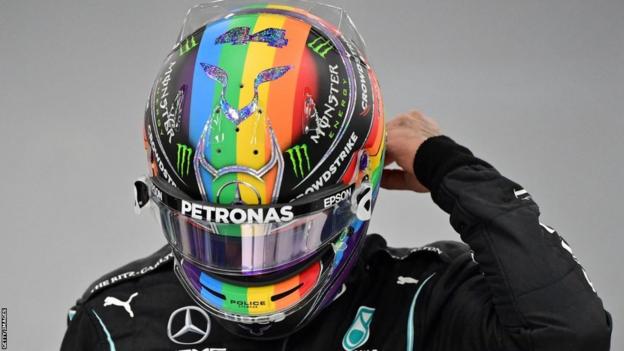 A human rights group says Formula 1's governing body the FIA is "suppressing drivers' freedom of speech" with a rule that was introduced this year.
The Bahrain Institute for Rights and Democracy (Bird) questions the FIA's commitment to human rights.
Bird says it is preventing "drivers from making their voice heard on issues including human rights and racism".
It says the rule "appears to be a reaction" to Lewis Hamilton raising such concerns.
The letter, from Bird director Sayed Ahmed Alwadei, and seen by BBC Sport, refers to a new rule added to the FIA's sporting code this year that forbids "the general making and display of political, religious and personal statements or comments notably in violation of the general principle of neutrality promoted by the FIA under its statutes, unless previously approved in writing by the FIA".
Alwadei says the move "appears to be a reaction to drivers, in particular Lewis Hamilton, raising their concerns about the locations chosen for F1 races, including the human rights records of host countries, and making powerful interventions where your own organisation has been silent".
The letter – addressed to FIA president Mohammed Ben Sulayem and copied to all the teams and Hamilton's representatives – contrasts the rule with last year's decision to cancel the contract of the Russian Grand Prix.
And it underlines what it believes is a contradiction between F1's treatment of Russia's war in Ukraine and the involvement of Saudi Arabia, Bahrain and the United Arab Emirates, which all hold grands prix, in a war in Yemen.
Alwadei says Hamilton has "used his platform to express support for Black Lives Matter and human rights in countries with problematic human rights records, including Bahrain and Saudi Arabia".
"Throughout his career, none of the statements Hamilton has made can be considered any more political than the decision by the FIA to withdraw from racing in Russia in the last season due to its invasion of Ukraine," added Alwadei.
"In your own statement last year, you condemned the Russian invasion and expressed 'sadness and shock' for victims in Ukraine. While I applaud this statement, it is clearly a political one."
In a statement issued to BBC Sport, Alwadei added: "When the FIA and F1 choose to grant races to some of the world's most repressive regimes, like Bahrain and Saudi Arabia, they are facilitating sports-washing and allowing these dictatorships to launder their horrifying rights records.
"It is seriously disturbing to see the FIA now mimicking the tactics of its despotic business partners by attempting to muzzle the voices of critics and advocates.
"Where the FIA and F1 failed, it was drivers like Lewis Hamilton who stood up and called out abuse, and his vocal support for political prisoners in Bahrain shed light on appalling injustice.
"Now, the FIA wants to silence him and others, and punish them if they dare to speak out. We are saying to Mohammed Ben Sulayem that this policy is wrong and it must be reversed immediately."
Alawadei refers to a meeting with the FIA on 19 March 2021, when Frenchman Jean Todt was president, at which he was "given the encouraging assurance that your predecessor was keen for the FIA to adopt a human rights policy".
He adds that the meeting was Bird's "last meaningful engagement with the FIA" and that "unfortunately, Jean Todt's presidency ended without a human rights policy in place and it is not clear whether this is still something the FIA is working towards under your leadership or not".
The FIA has been contacted for comment. A spokesperson has previously said the new rule is meant to codify an existing arrangement.
It is said to be directed at the wearing of clothing bearing campaigning statements on the podium or before the race – such as those Hamilton wore during the height of the Black Lives Matter movement following the murder of George Floyd by US police in 2020 – rather than general comments in support of progress on human rights.
Controversy over F1 valuation remarks
In a separate development, Ben Sulayem has caused concern within F1 with a series of tweets saying the sport is not worth $20bn (£16.2bn).
Ben Sulayem's remarks come in the wake of a report by Bloomberg that Saudi Arabia's Public Investment Fund (PIF) had tried and failed to buy F1 for that figure.
He described the valuation as an "alleged inflated price tag" and said: "Any potential buyer is advised to apply common sense, consider the greater good of the sport and come with a clear, sustainable plan – not just a lot of money."
He added: "It is our duty to consider what the future impact will be for promoters in terms of increased hosting fees and other commercial costs (in the event of any such sale)."
Saudi Arabia is involved in F1 – its national fuel company Aramco is a corporate sponsor, and the country hosts a race that has one of the largest hosting fees – but BBC Sport has been told its PIF has not at this stage tried to buy the sport.
But Ben Sulayem's intervention raises a series of questions as to why he has felt the need to get involved on a commercial matter that technically is not within his remit.
The FIA is required to stay away from commercial matters within F1 by an agreement struck with the European Commission more than 20 years ago.
Ben Sulaymen's statement comes against the backdrop of continuing tension between the FIA on the one side and F1 and the teams on the other about the way the sport is being run.
Liberty purchased F1 in 2017 in a deal that valued the sport at $8.5bn, since when its global appeal has increased significantly.
An FIA spokesman said Ben Sulayem had wanted to express his personal opinion on the matter.