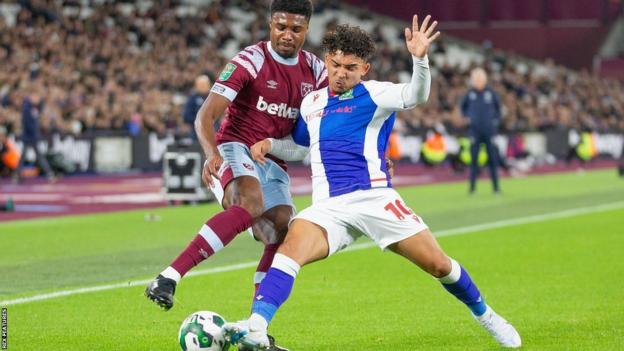 Warning: This article contains a reference to suicide
"I visit Jez's grave every week," says Tyrhys Dolan. "I like to go alone so I can talk to him about football, life and my little sister, who he didn't get to meet."
In October 2020, Jeremy Wisten took his own life just weeks after celebrating his 18th birthday and less than two years after Manchester City had let him go.
"We booked San Carlo for a meal for Jez's 18th," Dolan, an attacking midfielder for Blackburn Rovers, tells BBC Sport.
"It got to about 11pm and he didn't want the night to end. Lockdown measures were in place so we got a hotel room.
"We played music and laughed all night. I get upset when I drive past the hotel because it was our last proper night together."
Jeremy, a centre-back, was signed by City at the age of 13 and dreamed of emulating his idol Vincent Kompany, Manchester Coroner's Court was told. But a serious knee injury in January 2018 prevented him from playing for five months and the following December he was released.
As Blackburn prepare to play Leicester City away in the fifth round of the FA Cup on Tuesday (19:30 GMT), Dolan, 21, opens up on how the loss of his close friend has led him to offer support to people with depression.
"If I can help change one person's life, that's good enough for me," he says.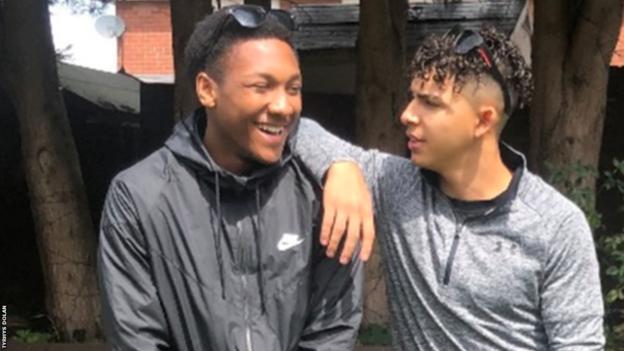 'Forever heartbroken'
The pair met at Manchester City's academy and became inseparable from the age of 14.
"I'd always be round his house or he'd be at mine playing music, chilling together," says Dolan. "We'd go and get food together, go to the Trafford Centre, go to house parties. Anything that involved fun, we'd be there.
"He used to light up rooms with his smile. People had to see it to understand it."
Dolan was let go and ended up at Preston North End's academy but their friendship grew stronger.
"Sometimes I didn't have enough money for petrol to drive from Preston to Manchester to see my family," he recalls.
"Jez was younger than me but he'd give me money so I could get back home. He'd say 'I don't want the money back. I just want you to come home and see everyone'. It was brotherly love. I'd have his back and he would have mine."
More than two years after Jeremy's passing, Dolan's Twitter profile features a picture of the pair of them together laughing and chatting in a garden.
"That was such a good day," says Dolan. "It was taken as we got ready to go to the Parklife Festival in Manchester.
"I'm smaller than Jez but I remember having him on my shoulders so he could try and see what was happening on stage.
"I can't remember who was playing but knowing Jez, it would have been a rap artist or hip-hop."
Dolan vividly remembers his last conversation with his best friend.
"We talked about shoes. We loved fashion. He told me about [job] interviews he had planned," he says.
Two days later, Jeremy was found dead at his family home in Wythenshawe, Manchester.
"I couldn't believe it," added Dolan.
"The only time he told me he got down [after being released by City] was when he saw a former coach in the gym who said to him 'Jez, we should do some one-to-one sessions to try and get you back into football'.
"Jez said to me 'Ty, I realised after that it's probably too late [to get back into football]'. That was months before [he passed away].
"We had a long conversation after that. We were always talking."
One month before his death, Jeremy posted a message on social media congratulating his friend on scoring his first senior goal for Blackburn in a 5-0 defeat of Wycombe Wanderers at Ewood Park.
"He was proud of me, he was just so happy for me," adds Dolan.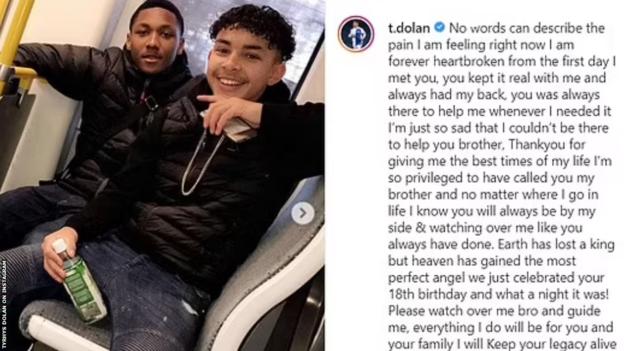 'A friend like no other'
Dolan was a pallbearer at Jeremy's funeral at St George's Church, Altrincham, on 13 November 2020.
He also read out a poem at the service he had written about his friend.
Remembering Jeremy by Tyrhys Dolan
Jeremy,
A friend like no other, my right hand man, my brother. Where do I start?
So many memories we were never apart.
You touched the lives of many, the 'black team' will live forever, me, you, Harold and Benni.
As we wear your T-shirts we wear them with pride, knowing you are forever by our side.
When we stepped in, the party would start and we would be dancing till after dark.
I bet the parties in heaven are much greater, I can't wait to experience them when I see you later.
Thank you for always giving me the best version of you, I hope you felt I did the same for you too.
Thoughts of you in my heart will always hold a special place, you're my brother till the end just like Mitch and Ace.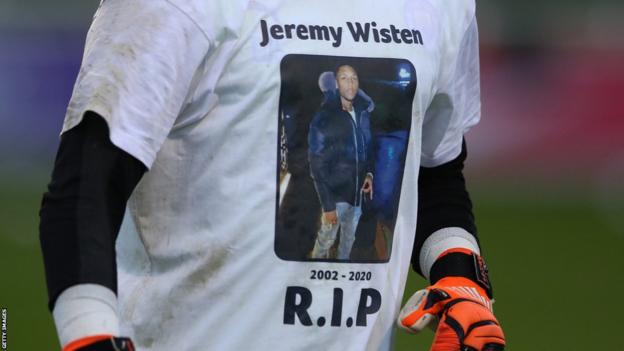 More support for young players needed
Dolan is regularly in touch with Jeremy's parents, Manila and Grace. "I love them like my own parents," he says.
Manila told the inquest his son failed to find a new club and he thought the two main factors were the injury and City's lack of assistance.
City's academy director, Jason Wilcox, told the inquest the injury played no part in the decision to release Jeremy.
He said information would have been passed to him and his family about his footballing career options.
Mr Wilcox said he had "sleepless nights" about meetings where young footballers were told they were being released because "I genuinely care".
Dolan is an ambassador for the Go Again charity, which provides professional mental health support to players and coaches at all levels of sport and those released by clubs and academies.
"I feel it is getting better, but it's still not where it needs to be," he says when asked about support for young players released by clubs.
Dolan has made it easy for people to contact him on social media if they are feeling down and need help and advice.
"I've got friends and family who suffer from depression. I make sure we speak all the time and that we're honest about our feelings," he adds.
"Whenever I am down I make sure I tell someone close to me how I'm feeling. It feels like a weight off my shoulders."
Dolan has now established himself as a regular at Blackburn in the Championship.
Three years ago, while at Preston, he was on loan in the eighth tier of English football at Clitheroe. Now he is involved in Rovers' promotion push and is getting ready to test himself against Premier League opposition in the FA Cup.
When Dolan scored the winning goal against Blackpool last week, he produced a back-flip celebration to mark his fifth goal of the season.
What would his best mate have made of his acrobatics?
"Jez would have been buzzing. I wanted him to do better than me and he wanted me to do better than him. We had that love for one another," says Dolan.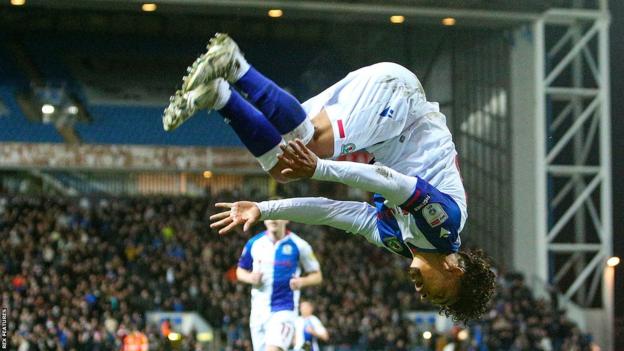 If you, or someone you know, have been affected by any issues raised in this article, support and information is available at BBC Action Line.