Chantraine is a unique approach to dance. Named after its creators, Alain and Françoise Chantraine, it focuses on the artistic, educational and human dimensions of dance. Olexandra is a teacher at one of the UK's two Chantraine schools, in north London, and used to be Chief Officer of Age UK Hackney [now part of Age UK East London] between 2005-2011, so is well attuned to the needs of older people.
Prior to the outbreak of the pandemic, the classes would meet in the comfort of the Sidings Community Centre in Kilburn, but now take place online. Now, as then, the classes are overwhelmingly female. "I think there's a natural propensity for women to be more open to their inner sense and creativity," suggests Olexandra.
There are obvious reasons why Chantraine, also known as 'The Dance of Expression', appeals to older people, particularly during a pandemic that's increased isolation and decreased confidence, as Olexandra explains.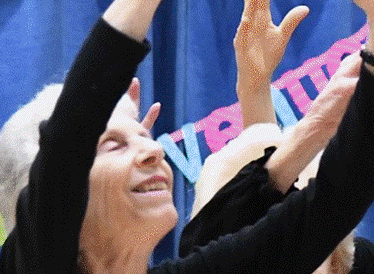 "Dance is good for everyone, but it's particularly good for older people. It is multimodal, providing the four different types of movement you need for a healthy body: resistance, which strengthens the muscles; aerobic, which supplies oxygen to all parts of the body; balance training, which helps in avoiding falls, or if you do fall to fall 'better'; and stretching and flexibility to maintain physical independence."
While Chantraine offers all of that, it goes deeper too, engaging the mind and spirit as well as the body, which improves outlooks as well as their health. "It engages the whole person in an experience that's bigger than dance and looks at life itself."
Olexandra continues: "You're never allowed to criticise another person or be negative. You dance and see the best in other people. You'd never look at what you couldn't do well – you'd look at what you could do well and what you could do better. That same ethos pervades every class, whether you're 4 or 94."